The Six Biggest Property Management Mistakes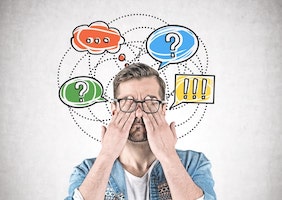 Many property owners, who go it alone, struggle to make money with their rentals. If you ran ads, did maintenance, and still struggled to keep your units filled with quality tenants, you are probably one of these owners. But it doesn't have to be this way. Like most owners, you probably don't have the time or property management experience to do all things necessary to make your investment successful.
Here are the biggest mistakes that owners make when managing their own properties:
Mistake #1: No Knowledge of Housing Laws
Can I push one apartment over another for a tenant? Do I have to pay for a ramp for a tenant? Can I advertise that I don't want children in my property? How many people can rent an apartment?
These are all questions that need answered in a way that doesn't discriminate. As an owner, you are required to comply with ALL federal, state, and local housing laws. There are a lot of them, and they keep changing. Fair Housing laws are especially tricky and easy to mess up without trying. Here is a link to more information on Fair Housing Laws.
It's hard to keep on top of all the ways to get Fair Housing right. Most people only know they did it wrong when they get a letter of complaint from the Fair Housing Administration threatening a lawsuit.
Davis Real Estate, Inc. keeps abreast of all the local, state, and federal laws and regulations. We know them so our owners don't have to.
Mistake #2: Poor Marketing
Your property is vacant, now what? How do you advertise to get a quality tenant in a timely fashion? When you decide to put an ad online or in the newspaper, you are competing against other properties for rent. How do you make your property stand out in the crowd? How do you get the right people to want to see your rental?
What media do you choose? Many renters do their searches online, but how do you get on those websites? How do you write the advertising copy to convey your property in the best light? What about photos? Are your photos eye-catching? Do they make your property look warm and inviting?
Timing your marketing effort is vital to keep your unit occupied. You have to know when your current tenant is planning to leave, and be ready for any repairs you may have to make. Get the marketing timing off and you could have a unit that sits empty for several months. Can you afford that?
Davis Real Estate, Inc. understands the media and the market. We have access to the websites where your property will get the most exposure and know how to choose the right media. We also get the timing right, starting the marketing to keep your unit filled.
Mistake #3: Setting the Wrong Rent
How hard can it be to set rental rates? Just add your mortgage and expenses, then add some for profit, right? But you also added new appliances and new flooring, so do you add that, too? What about all the sweat equity you put into the place, getting it ready for renting?
Using these ballpark figures is never the best way to set the rent rate. You need someone with the experience to know what the market rents are in the area, and how your rental compares to those. To set the rental rate, a good property manager will take into account the amenities of your unit, the location, square footage, number of rooms and bedrooms, and most of all, the local market conditions.
You could use a rental comp site on the internet to help you, but those estimates are usually wrong. They are from major cities with rent rates very different from those in Central Pennsylvania. Only a good property manager, with experience and knowledge of the local rental market, will help you set the rent to keep your property occupied.
Davis Real Estate, Inc. sits down with owners and makes a plan that covers your expenses, keeps your property rented, and helps you earn the most for your investment.
Mistake #4: Choosing the Wrong Tenants
You meet and interview your prospective tenants and find one that you "feel good about". Then, three months later they don't pay the rent, complain all the time about repairs, and take you to court. Does your lease cover you for this type of tenant? Is it ironclad enough to stand up in court?
You can't be emotional and choose the tenant that is friendly and seems like a good person. They could have three evictions from other rentals and you are stuck with them. Being the nice landlord can come back to haunt you and get you taken advantage of.
The secret to getting good tenants is in the screening process. At Davis Real Estate, Inc., we use an objective point system to find the best tenants. Our prospective tenants fill out an application online. From there, we do a criminal background check and a credit check. We call their previous landlords, and verify their employment. Using all of this information together, we choose the best tenants for your property.
We then have them complete a lease that has been approved by lawyers who specialize in tenant/landlord law. It sets out strict guidelines for their tenancy and protects you, the owner. We also have you covered with move-in and move-out inspections, so you don't get stuck with a huge bill for any damage done by a tenant.
Mistake #5: Having to Chase Your Tenants for Their Rent Checks
Being a nice person is not always a good thing when you are a landlord. You can be susceptible to the sob story from your tenant as to why they are late giving you their rent. You may let them pay their security deposit in installments, because they can't afford it up front. Then, you never get the entire amount. It happens all the time. Landlords let their emotions work against them.
Davis Real Estate, Inc. has a foolproof, and emotionless, system to collect rent on time and in full. We put right in the lease! We have them pay the full deposit, along with any pet fees, in advance, before they move in.
Our lease clearly explains the late fees and details of what happens when rent is late. It is spelled out in plain language and every tenant signs it.
We also make it easy for our tenants to pay rent on time every month, without worrying about late fees. Our Tenant Portal lets them pay online 24 hours a day. No worrying about depositing checks or having them get lost in the mail. We get paid, so you get paid.
Mistake #6: Do It Yourself Repairs or Paying Contractors Too Much
Some landlords are great at repairs and maintenance. But most find that it is more bother, and cost, than it is worth. They don't want to be called out in the middle of the night. They don't want to have to take off work to make repairs.
If you don't want to do it yourself, you are forced to call a contractor. Finding reputable contractors and getting a fair price is not always easy. There are a lot of shady contractors out there. They lack skill but promise the moon. There are also the contractors who take advantage of you by overcharging.
Davis Real Estate, Inc. has a team of dependable contractors who give us great rates because we've worked with them for years. They guarantee their work, which means not having to re-do it. Our network of contractors, suppliers, and vendors has taken years to build. It's not one that a landlord with a few rentals can duplicate. We find you the best work for the best price, saving you time and money.
Hiring a property manager takes the stress off you! Davis Real Estate, Inc. will handle both routine and emergency maintenance, as well as take care of routine inspections. We have a skilled maintenance team on staff and can hire contractors to perform any maintenance or repair requests.
We take care of your property, so you can avoid the stress.
---
Having an experienced property manager helps you avoid all six mistakes. We offer professional help overseeing the financial, marketing, screening, and maintenance of your property. We shoulder the responsibility of handling all of your property's day to day tasks. This includes: screening qualified tenants, executing leases, collecting rent, handling tenant complaints and legal issues, building maintenance, repairs, and complete, transparent accounting.
Give us a call today to see how we can make real estate investing work for you! We will help you keep your property rented and stay profitable!